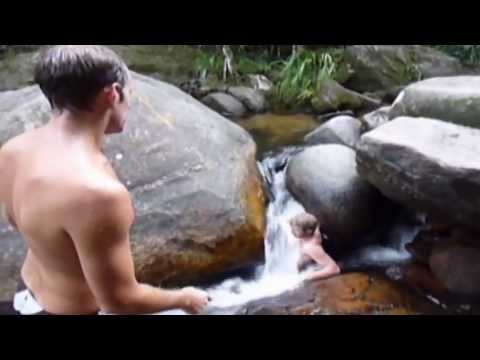 In the simmering days leading into Carnival, Rio de Janeiro's population swells with an additional 500,000 foreign tourists.  Creating inflationary pressures to rival those of 2008 Zimbabwe I ventured down to the Rodovario (interstate bus terminal) in search of more peaceful horizons, where I could see out the preceding anarchy and later return once the real festivities began.  A chance encounter with a Brazilian who lived and studied in Australia just houses away from mine, was enough to convince me that perhaps the universe was sending a message.  This being her suggestion to journey down the Costa Verde (Green Coast) and visit the coastal town of Paraty.
On account of a retrospectively welcome erroneous online booking I alternatively ended up in a place called Trindade, 45 minutes from Paraty.  Straddling the border between Rio and Sao Paolo, Trindade was a pristine paradise of mountainous rainforest, powdered beaches and endless waterfalls.  A haven equal in kind was Kaissara hostel, backing onto a lush green gulley where graceful hummingbirds and giant blue Morpho butterflies danced daily for hammock bound travellers.  Its owner and former tour guide 'George' proved to be the ultimate host, providing free daily tours through the rainforest, weekly bbqs, and commendably matching the most seasoned of travellers in festivities and celebrations.
Desires to return to Rio waned with each passing moment of serenity, ultimately dissipating with the news of a unique carnival Bloco in neighbouring Paraty. "Bloco de Lama" was a bizarre mixture of traditional carnival and tribal ritual, celebrated with a morning mud fight at Praia da Jabaquara before migrating through the old colonial streets. Many participants – animals included – arrived in prehistoric costume as a symbolic deterrence towards the evil spirits, with entertaining chants of "oogaa-oogaa ha ha" frequently reverberating across the precession. Festivities continued throughout the remaining days and nights of Carnival as Fohol and Samba echoed from Trindade's beachside shacks for the moon-lit silhouettes of revellers that danced through till dawn. An organised trek to the tranquil little fishing village of Ponta Negra provided the perfect conclusion to this accidental adventure.