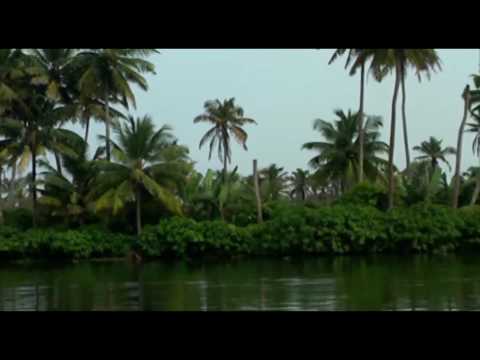 Intrigue and excitement are the companions of the sound of a familiar voice in foreign surroundings.  Having just watched the final days embers disappear into the Arabian Sea I heard a thick Scottish accent call my name.  To my pleasant surprise it was the smiling face of my friend Callum, whom I had first crossed paths with in Anjuna Beach, some 700km away.  We wasted little time in filling in the gaps over a chai and Kingfisher as Callum recounted his last couple of weeks spent at the Sivananda Yoga Ashram.  Proceeding to introduce me to a large contingent of fellow practitioners, I listened to the often humorous accounts of their recent spiritual journey within and their enthusiastic plans to now embark on adventures of the external kind.
With action amongst travellers brought together by chance often being as spontaneous as their meeting, I found myself standing on a heli-pad-come taxi rank at dawn, en-route to the backwaters of Alleppey.  A company of seven, we paid our dues for the last minute travel arrangements with an obligatory game of musical chairs and loitering in doorways between train carriages.  Arriving at the shores of Alleppey we were greeted by mayhem and quickly joined in the chorus of negotiations between travellers and merchant for a houseboat and crew.  Arguably one of the most expensive experiences embarked upon in India, but definitely worth every rupee.
Many of the houseboats drifting across the 900km of canals, river and lagoons were modified Ketuvallams originally used to transport rice, spices and a variety of other commodities.  Congestion of these vessels amongst the early channels belied the splendour and tranquillity of the journey ahead, as a drifting panorama of mirror still lagoons and lush green rice paddies lay in wait.  Placid signs of life emerged from between the palm groves – a Venice of the East whose primary means of existence had changed little with the centuries.
We drank from coconuts, feasted on seafood, and watched the world pass by.  Sharing tales of the roads we'd travelled and forging new ones together.  When weary eyelids finally took hold we traded the comforts of rooms below for the liberation of the open deck.  A blanket of night under the starry lights of a thousand hopes and dreams.  The morning's memory remains vividly etched in my mind, as the soft amber light of dawn infused the signature haze that was India, and a distant call to prayer whispered to my heart that this was "God's Country".