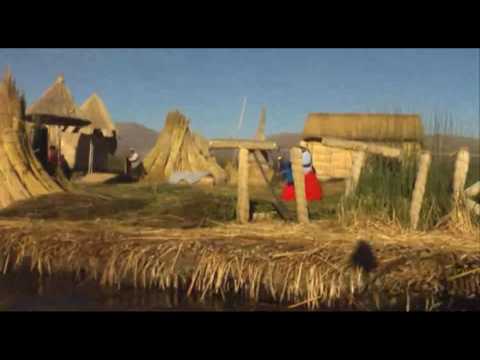 Having spent several weeks in Cusco my time in Peru was rapidly drawing to a close.  With still so much of this beautiful country left to explore I decided to hop on the tail end of the infamous "Gringo Trail" and embark on a reverse tour of its southern reaches.
Beginning with the Peruvian gateway to Lake Titicaca, I eagerly set out from Puno to visit an intriguing culture with a uniquely sustainable way of life.  At almost 4000m above sea level on what was ambiguously known as the "highest navigable lake" in the world, was the home of a pre-Incan people referred to as the 'kot-suna' ("people of the lake").  Outlasting the mighty stone temples and mountain-top enclaves of the Inca, the kot-suna have continued a centuries-old traditional lifestyle inhabiting forty two "floating reed" islands remarkably constructed from the 'totora' reed.  Providing everything from shelter to transport and sustenance, the people of the lake exist in symbiotic harmony with their environment, and even proclaim to have "black blood" enabling immunity from the cold.
The next leg of my journey from the "ciudad Blanca" to the Colca Canyon proved to be every bit as breath-taking as the final destination.  Snow-capped volcanic peaks transcending into steep valley sides, were lined with unspoiled Andean villages that kept my forehead firmly pressed against the window.  Whilst horizons of the highest passes were dotted with intriguing rock piles known as "apachetas" – a traditional offering to the 'Pachamama' ("mother Earth").  Being the second deepest canyon in the world, the Colca was formed by an enormous seismic fault between Coropuna (6425m) and Ampato (6325m) volcanoes.  The mirador "La Cruz del Condor" was the pinnacle of this excursion, serving as a natural observatory to the deepest section of the canyon where Andean condors took majestic flight upon the rising morning thermals.
My final stop before departing from Lima was the tiny Peruvian village of Huacachina.  Formed around a natural oasis on the outer fringe of a desert expanse, Huacachina's popularity precedes its minute permanent population of 115 (at the time of writing).  This desert oasis featured on the back of Peru's 50 Soles note plays host to a large number of domestic and foreign tourist who flock to the sandy banks for one of two very disparate reasons (1.) to either relax in a hammock; or  (2.) board down 100m high sand dunes.  Before participating in the later we had to first endure a white-knuckled, adrenaline filled dune buggy ride with a driver whose only employment pre-requisite seemed to be certifiable insanity . . . an unforgettable way to conclude a justifiably popular trail.